Patrimonio da  visitare , Musei, esposizioni in Bourgogne
Museums and exhibitions

It is the emphasising of art and of culture. Museums in permanent or temporary exhibitions, here is so many choices allowing you to open in classical or contemporary art. Many thematic museums are to discover, they pay tribute to a job, a site or to a character.
Iscrivere il vostro punto turistico in Bourgogne é gratuito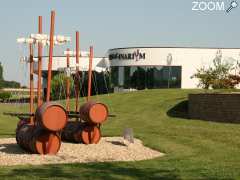 Monsieur Marie-Sébastien Retel
Avenue du Jura
21700 Nuits-Saint-Georges (Côte-d'Or)

SPL MuséoParc Alésia
1 route des Trois Ormeaux - BP 49
21150 Alise-Sainte-Reine (Côte-d'Or)
Tel : 03 80 96 96 23
- Fax : 03 80 96 96 24

Framaa
9 rue du maitre de forges
58200 Saint-Loup (Nièvre)
traduction en cours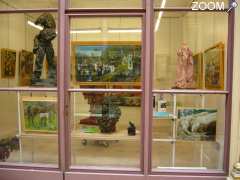 CHETBOUN-LOWY
Passage Balthus 12 rue Général Demetz 71400 Autun
71400 Autun (Saône-et-Loire)
Permanent show from Monique LOWY, and Patrick CHETBOUN paintings and sculptures. Château André Ziltener
rue de la Fontaine
21220 Chambolle-Musigny (Côte-d'Or)
Tel : 03 80 62 81 37
- Fax : 03 80 62 83 75
One of the most beautiful Burgundian estates lies in the heart of the Côte d'Or. The Château was built in 1709 on the foundation of an old Citerian monastery. renovated in historoc style, it is now ...

Xavier Douroux
37 rue de Longvic
21000 Dijon (Côte-d'Or)
Il centre for Contemporary Art Consorzio, gestito dall'associazione l'angolo dello specchio è attivo dal 1977 e ottenuto l'etichetta Art Center nel 1982. I suoi obiettivi sono la produzione ed ...

Elodie Saget
9, rue de la Tour
71110 Marcigny (Saône-et-Loire)

Frédéric PAPERIN
43 route de Macon - 71120 CHAROLLES
71120 Charolles (Saône-et-Loire)
Tel : 03 85 88 04 00
- Fax : 03 85 88 04 09
traduction en cours

Iscrivere il vostro punto turistico in Bourgogne é gratuito