Alloggiamenti, affitti , Camere in famiglia in Bourgogne
Guest house

Practical and friendly, here is what summarizes the formula of guest houses. Whom you are only or in family, come to spend one or several nights at the inhabitant. It is as a friend that you will be welcomed by the host and the hostess who can make you discover the local specialities during the meals which will be proposed to you.
Iscrivere il vostro punto turistico in Bourgogne é gratuito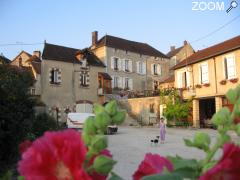 Bassa Stagione 64 €

Media stagione 64 €

vacanza 64 €

Ristorante Menu 16 a 24 €

**Tourisme-Petit déjeuné**
Chambel Corinne
Pacy sur Armançon
89160 Pacy-sur-Armançon (Yonne)
Three comfortable rooms with private bathroom, private garage. In a small village of Burgundy, with 2h of Paris, 1h of Dijon, beside of Chablis.
Possibility of eating at the restaurant.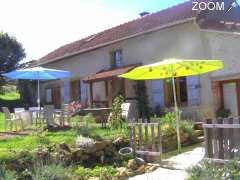 CROLA
Putinat
71340 Melay (Saône-et-Loire)
Vi diamo il benvenuto nella nostra azienda, in una camera spaziosa sul canale da Roanne a Digoin e 200 metri dalla Loira. La stanza è dotata di un letto matrimoniale per i genitori, un salotto per ...

Simone Ramaget
Larçon
21580 Salives (Côte-d'Or)
5 chambres d'hôtes

BURAT Aline
14 rue Clemenceau
71640 Givry (Saône-et-Loire)

BLANCHE
Rochefort
89440 Dissangis (Yonne)

Brigitte LANGLADE
Dracy-Chalas
21230 Viévy (Côte-d'Or)
Welcome in the heart of Burgondy - Bed and breakfast - dinner - 2 rooms opened all the year - bathroom ro shower - private WC - garden, forest at 250 m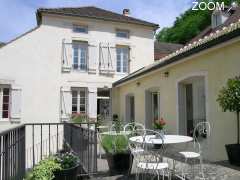 Bassa stagione 85€ a 110€

Media stagione 85€ a 110€

Alta stagione 85€ a 110€

Vacanze scolastiche 85€ a 110€
véronique MOIROUD MONNOT
rue de la Perrière
21190 Saint-Romain (Côte-d'Or)
Tel : 03 80 21 68 08
- Cellulare : 06 86 42 83 03
Located right in the heart of the St Romain Valley,
" Domaine Corgette*" offers five lovely guest rooms.
In the past, the house was successively a Café and then a winegrower's estate. It has kept ...

Thérèse FARJAS
Domaine de Noyer 71800 Saint Christophe en Brionnais
71800 Saint-Christophe-en-Brionnais (Saône-et-Loire)

Iscrivere il vostro punto turistico in Bourgogne é gratuito