Accommodation, Self catering dans la Nièvre
Add to my travel notebook
Register your touristic spot dans la Nièvre it's free (in French)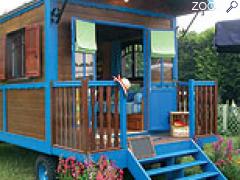 TVORG-2034
Update informations






Disponibilités
GAIDOSCH
Haras de silvabelle
58240 Mars-sur-Allier (Nièvre)
Phone : 03 86 58 17 74
- Fax : 03 86 58 17 74

http://www.roulottes-silvabelle.com
Like Gulliver, travel to a world on a smaller scale with your children and visit the home of Miniature Horses le monde du cheval miniature.
Three beautiful Caravans built in solid wood and decorated with taste for your pleasure and comfort.
Children will discover carriage driving with miniature horses.
Outdoor leisure activities are available for your enjoyment.
A spellbinding place for a family holiday at the heart of outstanding natural beauty where children reign supreme…
For short breaks or longer holidays, the two of you, or with your family and friends, rediscover the magical charm of yesteryear's Romany Caravans, while enjoying the convenience of their equipment designed for absolute comfort….
A cosy interior tastefully decorated with bright colours, very comfortable and equipped to a high standard, including a sleeping alcove with a large double bed, shower room, kitchen area, heating and TV set …
Three themes : Caravan Fanny for a taste of Provence, a rural theme with Marguerite, and Rosalie, with true Romany colours – it all depends on your mood and wishes.
Register your touristic spot dans la Nièvre it's free (in French)