Accommodation, Bed and Breakfast en Côte-d'Or
Add to my travel notebook
Register your touristic spot en Côte-d'Or it's free (in French)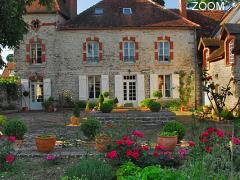 TVORG-4611
Update informations



Disponibilités
Chaillot Marie-Pascale
Lieu dit "Le Village"
21320 Vandenesse-en-Auxois (Côte-d'Or)

http://www.manoir-de-serrigny.com
The Domain of Serrigny, beautiful Manor of the XVIIIth with magnificent view on the medieval village of Châteauneuf-en-Auxois and at 100m of the Canal of Bourgogne. 3 spacious rooms(beds 160 and 1 bed 1 pers. Suppl.), all with lounge corner, bathtub, shower, private toilets.
Lounge with fireplace, library corner with exposed beams.In the beautiful days the breakfasts are served on the terrace.Beaune and Dijon at 30mn.Tennis and swimming pool.
Register your touristic spot en Côte-d'Or it's free (in French)