Accommodation, Self catering en Saône-et-Loire
Add to my travel notebook
Register your touristic spot en Saône-et-Loire it's free (in French)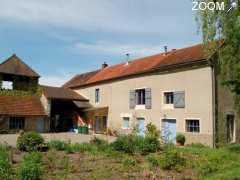 TVORG-4880
Update informations
Mid season 365 €

high Season 410 €


Disponibilités
Sue Nixon
La Tuilerie, 71460 Cormatin
71460 Cormatin (Saône-et-Loire)

http://latuileriechazelle.com
La Tuilerie is on the edge of a forest overlooking rolling meadows, all you can hear here are the birds in the trees and the frogs in the pond, and yet you are very close to shops and restaurants. So if you had enough of the stress of your everyday life and you really want to get away from the noise and traffic but not really away from civilisation, then we have what you are looking for!
There are 2 gîtes at La Tuilerie (L'Etable & L'Ecurie) each with its own entrance and private area with BBQ outside. Each gite has its own bedroom with double bed and bathroom and a living room with sofa, coffee table, dining table and chairs and a kitchen. L'Ecurie has all the rooms on the ground floor and L'Etable has the bedroom and bathroom on the first floor and living room/kitchen on the ground floor.
Bed linen and towels are provided. Towels and bed linen are changed at the weekend if you are staying for more than one week. Tourist tax and welcome pack (wine, milk, toasts, jam, butter and coffee) included. They are available for rent by the week (Sat to Sat) and are each designed for 2 people.
Smoking and pets are not allowed. To maintain the peace for other guests, families with small children cannot be accommodated unless both gites are rented by the same party.
The 2011 prices are:
April & October 360 per week
May, June & September 385 Euro per week
July & August 410 Euro per week.

Register your touristic spot en Saône-et-Loire it's free (in French)