Accommodation, Bed and Breakfast dans l'Yonne
Add to my travel notebook
Register your touristic spot dans l'Yonne it's free (in French)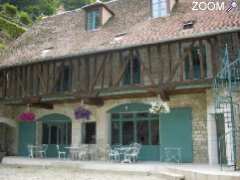 TVORG-705171
Update informations





Disponibilités
Gilles & Bernard
11, rue de la Fosse Dionne
89700 Tonnerre (Yonne)
Phone : 03 86 54 82 62
- Fax : 09 55 79 82 62
- Mobile phone : 06 10 59 06 30

http://www.ferme-fosse-dionne.fr
In the heart of Tonnerre's historic centre lies this ancient farm. It's ideally located between the beautiful church of St Pierre and the spectacular spring that is la Fosse Dionne. The farm has been entirely and sympathetically renovated and now offers quiet and comfortable guestrooms and a small shop selling regional specialities.

In Tonnerre, you can visit the Hotel Dieu, erected by Marguerite de Bourgogne, and the Hotel d'Uzes, living house of the famous Chevalier d'Eon.

Not far from Tonnerre, you can visit several châteaux: Tanlay, Ancy -le-Franc and Maulnes.

It also has a closed courtyard for parking.

Tucked away in the Burgundian countryside, Tonnerre is a traditional small market town, a little off the beaten track, away from the main tourist routes. We can suggest several themed tours in the town and the local countryside, or help you find pursuits like horse riding, canoeing, hang gliding, wine-tasting, golf and more.

It's worth setting aside a few day to explore the region, its heritage and its gourmet products. But don't worry if you can't fit it all in on your first visit ? you'll be doubly welcome when you stay with us next time!
Register your touristic spot dans l'Yonne it's free (in French)