Heritage, visit, Castle, Fort dans l'Yonne
Add to my travel notebook
Register your touristic spot dans l'Yonne it's free (in French)
See accommodation nearby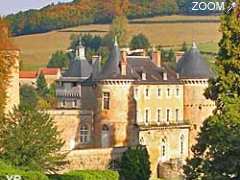 TVORG-778181
Update informations
Disponibilités
Philippe de Chastellux
Château de Chastellux
89630 Chastellux-sur-Cure (Yonne)

http://www.chateaudechastellux.com

https://www.facebook.com/ChateauDeChastellux
Chastellux Castle situated on the borders of Burgundy and the Nivernais, about 15 km of Avallon and Vézelay, owned by the same family for more than 1000 years.
The history of this castle, whose oldest remains date back to Roman times, is closely linked to the history of France.
It is therefore natural that comte Philippe of Chastellux tells you the anecdotes of the Castle and his family visits the Castle from Wednesday to Sunday at 11:15, 2.30 pm and 4.30 pm.
The Park, designed by Le Nôtre, worth a visit with its 3 courses which are offered ranging from 15 minutes to 50 minutes and staked q.

Register your touristic spot dans l'Yonne it's free (in French)