Accommodation, Campings en Saône-et-Loire
Add to my travel notebook
Register your touristic spot en Saône-et-Loire it's free (in French)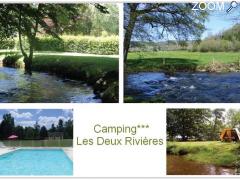 TVORG-8420
Update informations






Disponibilités
MMe Keesman Pauline
Le Pre Bouche
71400 La Celle-en-Morvan (Saône-et-Loire)

http://www.les2rivieres.com
Les Deux Rivières is a small, quiet camping for tents, caravans* and mobile homes located in the heart of Burgundy, within the borders of the Morvan Regional Parc. The camping is near the village of La Celle en Morvan between the cities of Autun and Château-Chinon and is easily accessible through route D978.
The camping offers plenty space across 1.8 ha. 30 large, even lots (80 à 120 m² each) are bordered with dense beach hedges and have shadow. The camping has new, clean bathrooms including comfortable, warm showers.
Most lots lie along two vibrant, shallow streams, la Canche en la Celle. Kids love playing in the small rapids and building dams. Trout fishing in these streams is allowed with a permit.
Les Deux Rivières has a heated swimming pool (June 15 - Sept 15) and a separate pool for children. Moreover, there are large playing fields, where table tennis, volley bal, soccer and jeu des boules are practiced.
The village of La Celle-en-Morvan still has a baker-grocerer and a butcher, both within walking distance from the camping. Bread can also be ordered at the camping. Moreover, the camping offers cold drinks and cooling pads. Plenty shops and services are available in the city of Autun at just 10 km.
The surroundings offer a beautiful diverse landscape with many forests, hills and rivers. Plenty hinking trails cross the area, including the famous GR13 and a "GR de Pays". The area is also well-suited for (mountain) biking. The camping offers detailed descriptions of many trails across the entire parc.
The Morvan area has numerous remnants of the Gallic and Roman era. Moreover, it has lots of Roman and Renaissance buildings and annual festivities in small villages typical for Burgundy.
The Dutch owners of Les Deux Rivières, Perry and Pauline, will give you a warm welcome. Please feel free to contact them in English or French if you desire additional information.

Register your touristic spot en Saône-et-Loire it's free (in French)