Accommodation, Campings dans la Nièvre
Add to my travel notebook
Register your touristic spot dans la Nièvre it's free (in French)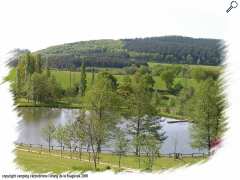 TVORG-9826
Update informations
Low season of 14€ to 17.5€

High season of 15.5€ to 19€

Restaurant Menu of 17 to 21 €

**Tourisme-Petit déjeuner**







Disponibilités
M. Micheluzzi Raphael
Hameau de champ
58120 Saint-Léger-de-Fougeret (Nièvre)

http://www.campingfougeraie.com

https://www.facebook.com/pages/Camping-Carpodrome-lEtang-de-la-Fougeraie/10150131976205257#
We welcome you on our green 3 stars campsite (60 pitches, 5 chalets and 2 equipped tents), labelled Camping Qualité. It's situated in the Burgundy, in the Nièvre, in the heart of the Parc Naturel Régional du Morvan.

We have thought of everything in order to propose you a comfortable, calm and natural stay.

Holiday for the whole family: several play-grounds (one of which is securised) have been installed in order to enjoy your children. They can play on the swings and the trampoline, play ping-pong or invent histories and share big moments on the air castle with the other children of the campsite.

During summer you can swim in the little lake nearby the campsite.

Then there is the Carpodrome where you can fish carps (no killing).

You can also discover the Morvan, the Nièvre and their richness:

•See and discover the life of the Gauls (archaeological site of Bibracte,
•Visit the museums of Château Chinon
•Walking and cycling tours on the bank of the canal du Niverais
•Rambles, water sports, fishing in one of the big Morvan lakes (Lac des Settons, Lac de Pannecière…), nearby the campsite.
•Visit the cities of Autun and Avallon (rich medieval architecture and vestiges of the Roman Gauls)
•Discover the church of Vézelay and the grottes of Arcy sur Cure…
•And don't forget that the Burgundy is famous for its wine.


A multitude of marked rambles (also accessible for mountain bikes) start at the campsite and are accessible for the whole family

You can discover the local kitchen in our restaurant

The campsite respects and protects the environment. Thanks to its ecological spirit it has been classified "Accueil Parc".

Don't hesitate any longer and come enjoy a lot of nice moments at the Etang de la Fougeraie.

Register your touristic spot dans la Nièvre it's free (in French)