Feu d artifice 51ème spectacle pyrotechnique de rogny
Add to my travel notebook
Register your event in the Agenda, it's free (in French)
See accommodation nearby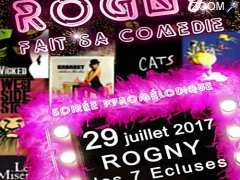 AVORG-820151
Update informations
the Saturday 29 July 2017
Comité des fêtes de Rogny
89220 Rogny-les-Sept-Écluses (Yonne)
ROGNY LES SEPT ECLUSES

http://feuartifice.pagesperso-orange.fr
Saturday, July 29, 2017 a pyrotechnic show, "ROGNY fact SA comedy", burn for the 51st year in the historic site of seven locks. This extraordinary show, implemented by the artificer RUGGIERI, attracts every year, in the small village of Rogny seven locks, between 15000 and 20000 spectators get the dream, the emotion, the magic moment in the night sky of the sky of Rogny. The show 2017 will be stronger than ever by the sign of the grandiose, of innovation, of the tradition.
It is an hour show where the magic of music and fire, in perfect harmony, will transport you to a colourful universe, full of emotions. 18 h 00 start of animations: free games for children, musical entertainment.
21.00 Concert Rock'n Roll animated by the group "Wild socks." 22:30 the show pyromelodique 'ROGNY fact SA comedy', rates: Place lawn 14 euros (free for children under 10 years) seat 26 euros (no child discount) seat group 24 euros (from 20 people) booking recommended for seating.
Free Tel 06 71 55 94 54 http://feuartifice.pagesperso-orange.fr 6 Parking information: 4 P 1 P GIC, 1 P camping cars car.
Include a flashlight, warm clothing, rain (avoid umbrellas for security).
Catering, snack bars on-site.
Register your event in the Agenda, it's free (in French)