Accommodation, Campings in Burgundy
Camping

To choose the camping, it is to be certain to share a moment close to the nature. You will have the choice between the tent for the most rash, the caravan for the accustomed and the bungalow or the mobil-home for those who wish more comfort. The charm of the camping, it is all above the meetings, the cheerfulness of the vacationers and all the good memories in the future.
Register your touristic spot in Burgundy it's free (in French)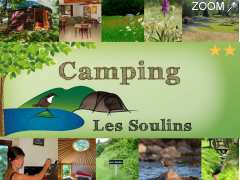 Camping site of 5.5 to 8 €

adult Camping of 2.5 to 3 €

Camping electrical connection 3 €

Camping car 0 €
MARTIN luc & DENIAUD Estelle
les Soulins
58120 Corancy (Nièvre)
Phone : 03 86 84 47 52
- Mobile phone : 06 87 86 05 68
In the Parc Naturel Regional du Morvan in the center of Burgundy.

Camping the Soulins is located 8 km from Château-Chinon (all shops), in the commune of Corancy, at the edges of Pannecière Lake. ...

Register your touristic spot in Burgundy it's free (in French)